Overview
Madurai is a major city in the Indian state of Tamil Nadu. It is the cultural capital of Tamil Nadu and the administrative headquarters of Madurai District, the third largest city in Tamil Nadu and 44th most populated city in India. Located on the banks of River Vaigai, Madurai has been a major settlement for two millennia.
Madurai is closely associated with the Tamil language, and the third Tamil Sangam, a major congregation of Tamil scholars said to have been held in the city.
The recorded history of the city goes back to the 3rd century BCE, being mentioned by Megasthenes, the Greek ambassador to the Maurya empire, and Kautilya, a minister of the Mauryan emperor Chandragupta Maurya. Signs of human settlements and Roman trade links dating back to 300 BCE are evident from excavations by the Archeological Survey of India in Manalur. The city is believed to be of significant antiquity and has been ruled, at different times, by the Pandyas, Cholas, Madurai Sultanate, Vijayanagar Empire, Madurai Nayaks, Carnatic kingdom, and the British East India Company British Raj.
The city has a number of historical monuments, with the Meenakshi Temple and the Tirumalai Nayak Palace being the most prominent. Madurai is an important industrial and educational hub in South Tamil Nadu. The city is home to various automobile, rubber, chemical and granite manufacturing industries.
Experiences
Meenakshi Temple
The temple is a major pilgrimage destination within the Shaivism tradition, dedicated to Meenakshi Devi and Shiva. However, the temple includes Vishnu in many narratives, sculptures and rituals as he is considered to be Meenakshi's brother.
Distance: 10.00 km(s)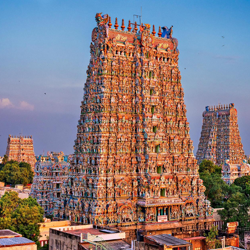 Alagar Kovil
Kallazhagar temple covers an area of about 2 acres (0.81 hectares) and has a five-tiered gopuram (gateway tower). The temple in enclosed in a rectangular enclosure with huge granite walls.
Distance: 18.00 km(s)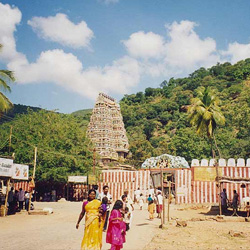 Gandhi Memorial Museum
It is now one of the five Gandhi Sanghralayas (Gandhi Museums) in the country. It includes a part of the blood-stained garment worn by Gandhi when he was assassinated by Nathuram Godse.
Distance: 5.00 km(s)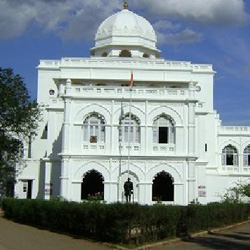 Thirumalai Nayakkar Palace
This Palace is a classic fusion of Dravidian and Rajput styles. The building, which can be seen today, was the main Palace, in which the king lived. The original Palace Complex was four times bigger than the present structure.
Distance: 9.00 km(s)